Audience: All Providers
We would like you to be aware that many of our members will soon begin receiving new Member Cards, due to enhanced requirements issued by the NYS Department of Financial Services (DFS).
The changes will apply to members who have fully insured, commercial coverage and to some self-funded groups. Card issuance will be upon renewal beginning April 22, 2021 and continuing until April 30, 2022. Only members with medical and combined medical with pharmacy coverage will receive new cards. We recommend that you check Member Cards at every visit.
Among the Enhancements:
Member Cards will be sent to all subscribers AND dependents*

Subscribers will continue to receive two member ID cards. Each dependent will receive his/her own Member Card mailed in its own envelope, regardless of age.

ID cards will include the following additional information:

Plan's provider network name
Urgent care copay or coinsurance
Pharmacy copay and/or coinsurance for a 30-day retail supply, if applicable
Plan's pharmacy formulary name, if applicable
Coinsurance for PCP, specialist, and emergency room, if applicable

Language stating coverage is fully insured, if applicable
Language stating coverage is self-funded, if applicable
*Important note: Dependent patients in the company of a parent do not need to present their own card. The subscriber's card suffices.

Please see below this notice for sample subscriber and dependent Member Cards.
Additional federal guideline changes will further impact Member Cards for fully insured and self-funded groups beginning with renewals on January 1, 2022 and after. We will share more information as it becomes available.
Thank you for the care that you provide to our valued members.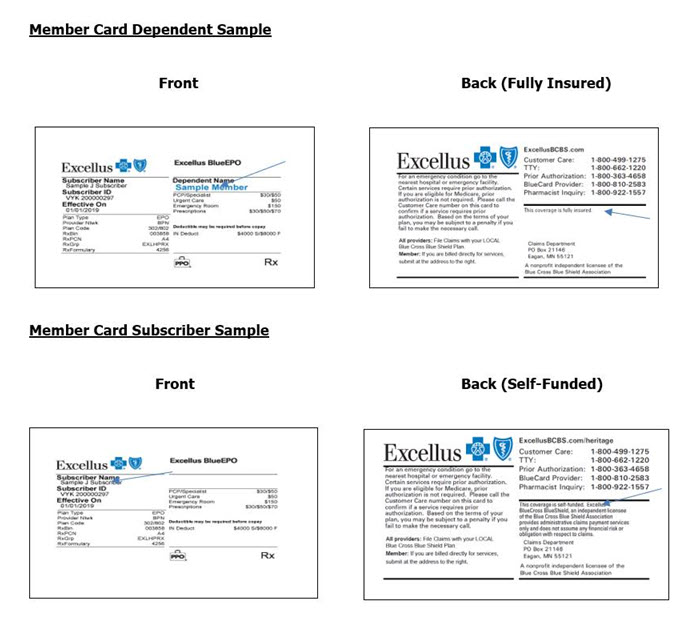 Email this article