Audience: Participating Dental Providers
Excellus BlueCross BlueShield would like to remind you that field 53 (dental provider signature) and field 54 (NPI) are required for a claim to process successfully.
Please note that a claim submitted with "Signature on file" for field 53 will be returned as a billing error.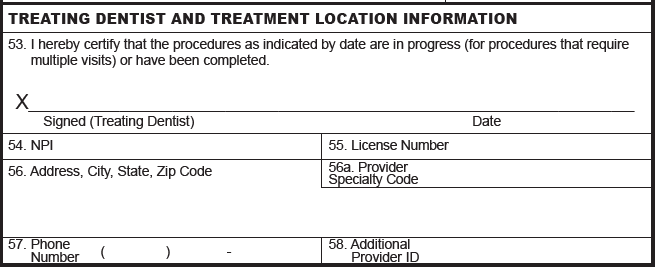 Dental Claim Reminders
Dental claims do not require a prefix
Dental claims do not require a group number
Dental payor ID is 00802
Please allow 30 days for claims processing
Submit paper dental claims to the following address:
Dental Claims P.O. Box 21146 Eagan, MN 55121
When submitting a paper claim, commas are needed in the name field
When completing a paper claim, it's important to use commas to separate the last name, first name, and middle initial in the Patient's Name and Insured's Name fields. This helps to ensure the members' first and last names are correctly identified in our system. If the names aren't separated correctly, claims may deny.

If you have questions about the information contained in this notice, please contact your Provider Relations representative or Dental Customer Care at 1-800-724-1675.
Please check out our Dental Resources page for news and updates, dental policies, and much more!
Email this article